Subscribe to this blog's feed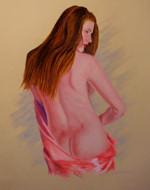 This is a pastel measuring, 24 x 18 inches. "Pastel Nude
In Pink Drape."
This was done from a combination of photos of this model and her posing for me as I worked after about half way done. This is a very common way for me to work on pastels or oils. I had only done one painting of this lovely girl when I did this one. I knew I was going to do a number of paintings of her but with the first one I struggled with her fair skin tones. It was important to be correct with that wonderful red hair.
That was what drove me to do this piece. I think from it I was able to learn enough to go forward with the other paintings.
I often do pastels of models to learn more about the colors needed to properly get the skin tones. I also enjoy doing them because they go faster than the oils. This one was done almost exclusivly with pastel pencils and is on toned paper.
Many times clients request pastel portraits instead of oils, not just because they are less expensive, but because they have a certain drawn quality to them many prefer.
I also added a closeup of the head just to show the technique and color a little better.
I can't say for sure but I think I only used about a dozen colors for the whole thing and that is very rare for me.
If you would like to see a larger image please go to, Pastel Nude in Pink Drape.